Inductees
2000 Era
1990 Era
1980 Era
1970 Era
Listed by:
Season joined, or the part of a season joined.
Alphabetical by last name.
RIP is deceased, Rest in Peace.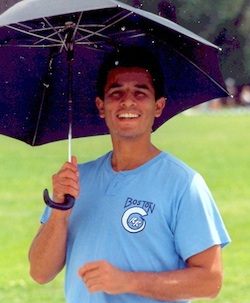 Inductee: Rudy Becerra
Member: 1982-1988
Inducted: 2006
His sportsmanship, hard nose playing style, and tireless efforts in volunteering- wherever needed- make Rudy's impact felt in the BSL through to the present. A talented athlete who joined the BSL after moving to Boston while in his 30's, he became "Rookie of the Year", lead his team to the top of the standings in the 80s and is the namesake of the BSL Division I Sportsmanship Award.
7 year BSL Member: Beginning in 1982
Player (7yrs), BSL Volunteer (7 yrs), BSL All-Star Team vs. Boston Police All-Stars (annually)
Teams: Boston Ramrod (5 yrs), 1270 (1st team, 1 yr), Chaps (1 yr)
Awards:

Rookie of the Year - '82
Rudy Becerra Sportsmanship Award - Div. I - named in his memory in '89
Best League Finishes: 1st Place: '83 Chaps (Div. I), '85 Ramrod (Div. I), '88 Ramrod (Div. I)
2nd Place: '84 Ramrod (Div. I), '86 Ramrod (Div. I), '87 Ramrod (Div. I)
3 World Series Appearances: '83 Chicago, '85 Milwaukee, '88 Dallas
Tournament Appearances (many): Including Toronto, San Francisco, Chicago, Pittsburgh, San Diego
Volunteer: Tireless volunteer for many causes within the BSL such as "Casino Night", fundraisers, concession stands, Minuteman Classic Tournaments, Aids Action Committee. Designed the popular logo for Boston Ramrod at the Gay Games San Francisco
While he wasn't one of the core organizers of the League, Rudy was one of the stalwart 'doers'. Whether it was participating in a fundraiser, setting up a concession stand or just a team picnic, he consistently brought more energy and follow- through to the things in which he participated than anyone. And although he did have a temper at times, you were most likely to see a huge smile and hear an unrestrained laugh from Rudy.
Rudy was a true all around athlete, with a college basketball scholarship in his past. Rudy was also somewhat of an 'ageless wonder'. Quite a few people were surprised when he finally let them know that he was in his late 30s. He performed at a level exceeding most guys who were a decade younger. He was a tough, but fair, competitor on and off the field. A consistent hitter, fielder, and great clutch hitter, Rudy helped the Boston Ramrod team establish itself as one of the top teams of the 1980s.
Rudy was not only an excellent player, he was a gentleman who cared deeply about his teammates and about everyone in the League. Even though Rudy played only 7 seasons before his death on December 8th 1988, he has made a major impact on a number of current and former players. His legacy is still with us today and the "Rudy Becerra Sportsmanship Award" will ensure that his legacy is always present in the BSL.