Inductees
2000 Era
1990 Era
1980 Era
1970 Era
Listed by:
Season joined, or the part of a season joined.
Alphabetical by last name.
RIP is deceased, Rest in Peace.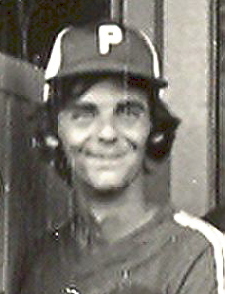 Inductee: Ken McNeil
Member Since: 1978
Inducted: 2005
Ken is one of the original members of the BSL. He is known by everyone who has played in the League because of his dedicated umpiring, and also as a dedicated player and teammate concerned in developing the skills of new players and making the BSL a special experience for them.
Player (15 yrs-est.), Umpire (15 yrs-est.)
Teams: Herbies Ramrod Room (1st Team, 1 yr), Paradise, Fantacy's, Luxor, Charlie Hart Ins., Bobbies
2 League Championships: Paradise '79 (outfield), Paradise '81 (outfield)
16 World Series appearances: As Player (2 yrs): '79 Paradise: 2nd place (outfield); '81 Paradise (outfield)
As Umpire (15yrs): Atlanta (2 yrs), Toronto, NY, Chicago, Minneapolis, Washington D.C., Dallas (2 yrs), Houston, Los Angeles, San Fransisco (2 yrs), San Diego, Pittsburg
Tournament Appearances (many - most were as an umpire): Most memorable ... Toronto '79 as a player, 1st place (1st Tournament for a Boston Team - An All-Star team called "Boston Pops" represented Boston's Esplanade League)
Awards:
Umpire - NAGAAA Umpire Award
Toronto's "Good Call Blue" Award
I joined the Beantown Softball League in its first year of existence. Back then it was the Esplanade Softball League. It was an eye-opener to a naïve 20 something guy that was just coming out and never thought of gay people playing sports. I played left field for Herbie's Ramrod Room. The following year, I joined Paradise. During that year, a group of 12 people that were available went to Toronto to play in our first out of state tournament. As the Boston Pops, we won the tournament and realized how much fun the tournaments could be.
I played several years for Paradise and retired to umpiring for the league after the World Series in Toronto in 1981. I umpired many years until I was talked out of retirement by Vic Santilli and Jim Vierra and joined Fantasys. Through the following years, I played for Luxor, Charlie Hart Ins. and finally Bobbies. During many of those years, I umpired as well as played. While playing for Charlie Harts, I tore my rotator cuff and could not throw overhand. Since I wanted to continue playing and helping the new players, I became a pitcher. Finally, I realized that I could no longer play and umpire, so I became a full time umpire.
I have umpired World Series in Atlanta (2), Toronto, NY, Chicago, Minneapolis, Washington DC, Dallas (2), Houston, LA, San Francisco (2), San Diego, Ft Lauderdale, and umpire-in-chief in Pittsburgh. I have won the NAGAAA umpire award and the Toronto "Good Call Blue" award.
I may not get all the calls right, but it won't be from lack of effort. I have gotten so much from my years in the Beantown League, and met my 2 best friends through gay softball; Jim Vierra, teammate and manager, and Mike Groby, fellow umpire in NAGAAA. I hope to continue my relationship with the league for many years to come.