Inductees
2000 Era
1990 Era
1980 Era
1970 Era
Listed by:
Season joined, or the part of a season joined.
Alphabetical by last name.
RIP is deceased, Rest in Peace.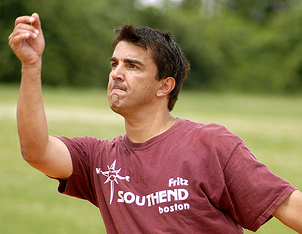 Inductee: John Fernandes
Member: 1986
Inducted: 2012
As a player, John has brought athleticism, skill, strong knowledge, and a love of the game to his teams. As a League officer and leader, John has demonstrated his ability to get results among different/competing forces by focusing them on what was best for the BSL.
Player (27 yrs), Coach (3 yrs), Commissioner (1 yr), Asst. Commissioner (2 yrs), BSL Advisory Committee (2 yrs), BSL Executive Committee (10 yrs), BSL "Draft Clinic" volunteer/coordinator (6 yrs), BSL – League Fundraising volunteer (numerous yrs), BSL Umpire (2 yrs)
Teams: 5 Star Generals (10 yrs), Bay Windows (4 yrs), Sporters [1st Team] (1 yr), 1270 (2 yrs), Maximum Security (2 yrs), GBBC (3 yrs), Randolph Country Club (2 yrs), Fritz Southenders (2 yrs), Alley Gators (1 yr)
Awards & Recognition: BSL Commissioner's Award (1 yr); Divisional Player Award Nominations (on occasion, in various years); Team MVP, Team Best Offense, Best Defense (various years).
3 World Series appearances:
'96 (Fritz Southenders), '97 (5-Star Generals), '03 (5-Star Generals)
Best World Series Finishes: 5th place: '03 Div C - 5-Star Generals
Tournament appearances: Chicago, Atlanta, Norfolk, Kansas City, St Louis, Phoenix, San Francisco, San Diego, Minneapolis, Providence, Philadelphia, Washington DC, Seattle, Ft Lauderdale, Palm Springs, Boston Minuteman.
John has been involved in the BSL since the 1980's. As a player, he has brought athleticism, skill, strong knowledge, and a love of the game to his teams. On the field, he's the prototypical smart player, impact player, and has played every position, even becoming an effective pitcher. He played a great outfield with a very accurate arm, and was a player who could hit to all fields with strong velocity. As a very smart hitter, he would know how to identify the soft spots in the defense and take full advantage. John's competitiveness is best evidenced while playing a tournament in Toronto in the 1990's. During an early morning game, with a blinding sun coming off the aluminum covered building behind the fields, John took a fly ball off his face breaking his sunglasses causing a significant gash and had to be brought to the hospital. Three hours later, stitches and all, he was back patrolling left field. But among his many competitive skills, what really sets John apart, is that he's always a good sport and team player. Whether it's between pitches or after the game, John is ready with his patented laugh to keep things light in a way that reminds everyone that we're here to have fun—and that's what's really important.
Those terms apply whether we're talking about his contributions on the field or his contributions to the league as Assistant Commissioner, Commissioner, team rep, and non-officer volunteer. John's off-field contributions to the BSL go back many years too. Even as Commissioner, John was comfortable playing the role of contributing team member--putting his energy and experience in service of the group as it tried to update an organization that hadn't changed in 30 years. John demonstrated his ability to get results among different /competing forces by focusing them on what was best for the BSL. Particularly impressive is that even when the changes didn't always occur right away, John kept plugging, didn't let the short term disappointments turn to failure, and in the process made an enormous contribution to the organization setting us up for the next 30 years. John continues to be a consistent voice of reason and has established himself as someone that other officers and League leaders rely on for sage advice and direction regarding any issue.
John has always been involved closely as a volunteer with many of the fundraisers of the BSL (golf tournaments, casino nights, etc) too. He has also always used his professional contacts in the Boston entertainment scene to provide prize donations to the BSL (and many of its member teams) for various fundraisers.
John recently expanded his horizons within the BSL by becoming an umpire within the League. He has carried his knack of having fun and being lighthearted into his umpiring as well, by frequently getting laughs from players and by keeping the games fun and upbeat. He also takes the time to explain and teach new players when there is a call that could be confusing. He is well liked by many of the players in the league, even those who he has called out.
John has been a positive force in the BSL for many seasons, and the league looks forward to his many seasons ahead!