Inductees
2000 Era
1990 Era
1980 Era
1970 Era
Listed by:
Season joined, or the part of a season joined.
Alphabetical by last name.
RIP is deceased, Rest in Peace.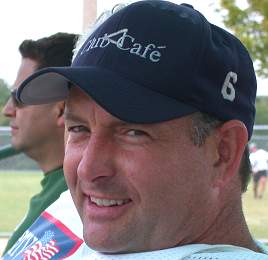 Inductee: Jim McNulty
Member Since: 1997
Inducted: 2007
Through his sportsmanship and dedicated service to the League, Jim has earned the respect of his fellow BSL members for his hard work and stewardship of the League! His competitive spirit as player and coach are a key component in the success of his teams in Boston and in tournaments across the country.
Player, Manager/Coach, BSL Hall Of Fame Chair, BSL Assistant Commissioner (2 yrs), BSL Executive Committee Member (7 yrs), Minuteman Classic Co-Chair (1 yr), Minuteman Classic Athletic Director (1 yr), NAGAAA Rep. Boston (2 yrs), BSL Finance Committee Member (1 yr)
Teams: Club Café Angels(5yrs), Shamrock Stallions (5 yrs), Napoleon Stallions (1st Team, 1 yr)
Awards:
Division 1 Sportsmanship Award '06, '05
Commissioner's Award '01
Team MVP '04, '99, '97
8 World Series Appearances:
Best finishes:
2nd place: '04 Dallas, Club Café Angels (Div. C)
3rd place: '01 San Francisco, Shamrock Stallions (Div. C),
1st place: '00 Toronto (pick-up player for Jackhammers, Div. B). Competed as a player in A, B, and C Divisions
25 Tournament Appearances:
Best finishes:
1st place (6 times): '07, '06, '05 Washington D.C. (Div. B); '05 Montreal (Div. A); '03 Philadelphia (Div. C), '99 Toronto (Div. C).
2nd place (6 times): '06 Chicago Gay Games (Div. B); '05, '03 New York (Div. C); '04 Ft. Lauderdale (Div. C); '00, '99 Montreal (Div. A)
BSL Team Participation beyond the BSL:
Providence RCSL Fall League (6 seasons):
1st place (3 times): '05, '04 Club Café Angels; '01 Shamrock Stallions.
2nd place (3 times): '06, '03 Club Café Angels; '00 Shamrock Stallions.
Dorchester Cardinal League (3 seasons):
1st place: '05 Club Café Angels.
RSMSL Fall League (1season): Coach/player
Harbor to The Bay Bike Ride, AIDS benefit: Club Café Angels Pit Stop Crew (4 Years).
I joined the BSL because I wanted to broaden my horizons. I felt the best place to start was to meet people involved in something I liked to do. I made the plunge by leaving a message on one of those old tape recorder answering machines. What followed was a serendipitous journey.
As a player, I found myself playing softball again after a fifteen year break. I was thirty four and playing shortstop for the Napoleon Stallions. My range wasn't quite what it used to be but I played better than I expected and loved it! I had forgotten just how much I enjoyed playing the game for its physical and mental aspects! To cap it off, I was picked up that first year by the Luxor Jox team to play shortstop for the World Series 'A' Alternate team that Boston sent under their sponsorship to San Diego. It was one of the best experiences of my life. I'll never forget it and was hooked, in a big way, to the BSL and everything about it! I went on to play in the next 7 World Series and in over 25 tournaments in Divisions A, B & C!
As a manager, the skills I've tried to develop are being; positive, a cheerleader, a motivator and a friend – not a boss. I've been fortunate to have had many experienced players who've needed little coaching and who've known the strategy of the game. Although we've never had a more talented team on paper than anyone else, we've been able to develop some successful teams. I've learned a lot about the things which need to come together to make a winner, and the bottom line is that our teams have been successful because it has been a team effort where everyone plays a key role!
As Assistant Commissioner I found that I was a volunteer first and a leader second. I learned that you have to do the work with all your heart before your peers will be convinced that you care enough about them to earn their trust in your leadership. Among my most memorable efforts was to go to the fields on the nights before it rained and place big plastic tarps on the infields and return the next morning to brush them off and rake like crazy. I think I saved a few games but if not, I made sure I sent a make-up schedule out to everyone within a couple of days so they could plan their summers!
As Athletic Director and then Co-Chair of the '02 and '03 Minuteman Classic I was determined to provide a great playing and social experience for players from other cities and for us. The BSL is always well represented in tournaments around the country and deserves to enjoy the fun of hosting a tournament of its own. Our fields are not ideal but people want to come here to play! And when they did, they had a great playing experience with a desire to return and play again!
Although I did not win a "League-wide" award for my play on the field, I was honored to have been nominated for one or two. However, winning two League Sportsmanship awards, to me, encompasses play on the field and perhaps a little bit more. I am very proud that my peers honored me with two Rudy Becerra Division 1 League Sportsmanship Awards!
As Chair of the Hall Of Fame, my motivation to help found the HOF was to build it as a bridge between the heritage and the future of the BSL. The League has been fortunate to have quality athletic, competitive and dedicated people for over 30 years now. Showcasing these HOF members, whether in person or by example, to the generations of the BSL inspires everyone and strengthens the BSL. I, for one, am inspired by everyone's BSL story and am fortunate to have made friendships that I would not have made without it. I look forward to nurturing these friendships and finding new ones in the years to come!