Inductees
2000 Era
1990 Era
1980 Era
1970 Era
Listed by:
Season joined, or the part of a season joined.
Alphabetical by last name.
RIP is deceased, Rest in Peace.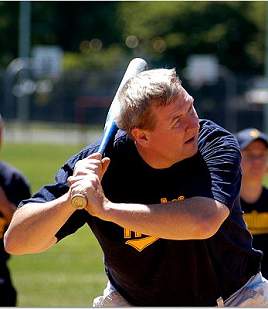 Inductee: Bob Quist
Member Since: 1986
Inducted: 2007
Exemplifying the characteristics and leadership qualities a BSL member should have, Bob always brings to the field a sense of competition, camaraderie and character. This "gentle giant" has been a friend, teacher and mentor to countless BSL members!
Player, Coach/Manager, Minuteman Classic Committee Co-Chair (1 yr), Executive Committee Member (many years), Volunteer (many years), Fundraising Volunteer (many years), Clinic Day Volunteer (6 years)
Teams: Ploughboys (1st Team, 2 yrs), Stallions (1 yr), Randolph Country Club (2 yrs), GBBC (3 yrs), 5 Star Generals (7 yrs), JJ Bodner (4 yrs)
Awards:
Commissioners Award '02
Sportsmanship Award (1 yr)
Team MVP Awards, (many)
Team Best League Finishes:
Division II Champs: '96, '97, '01, '02 - 5 Star Generals
World Series appearances (a few):
Best finishes: 2nd place '94 Nashville (Div C) as pick-up player Yukon
Tournament appearances (many):
Best finishes: 1st place (4 times): '04 Montreal (Div A) as player/coach JJ Bodner; '02 Montreal (Div. A) as pick-up player Club Café; '99 Toronto (Div II) as player 5 Star Generals; '95 Philadelphia (Div C) as player GBBC
Bob Quist has quietly and continually been a model individual during his entire B.S.L. career. A 'gentlemanly' opponent who has always been a "gentle giant" earning admiration from opposing teams while striking fear into them as well. He simply comes to play the game and is a great teacher of its mechanics and of what a team is supposed to be.
Bob has also volunteered, on many occasions over the years, and contributed significant time to the continued success of the League. He has been a true leader for all the teams he has played for, managed or coached. He is always a seasoned contributor to 'Clinic Day' since its inception in 2002. He was the respected Co-Chair of the Boston Minuteman Tournament in 2003, and has also been an ever present volunteer at League fundraisers. All of it done with humility and style.
From Bob:
" I honestly do not remember achievements in softball (or basketball for that matter)… Between the move to my new home some years ago and then a massive flood soon after, a lot of stuff was lost or thrown away that may have reminded me. These material things have never been of extreme importance to me though, and that's probably the main reason why I do not remember. It has been the camaraderie, friendship and sense of purpose that I have most enjoyed. Softball has been incredibly important to me as I struggled to 'come out'. To me, that has always been one of the joys and reasons I keep playing. I am honored to have been inducted into the Hall of Fame. My resume of sorts is what it is and my love and enjoyment of the BSL will always far outweigh any written list of achievements I may have accomplished."