Inductees
2000 Era
1990 Era
1980 Era
1970 Era
Listed by:
Season joined, or the part of a season joined.
Alphabetical by last name.
RIP is deceased, Rest in Peace.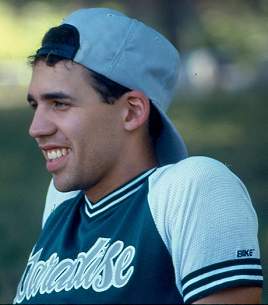 Inductee: Warren Mitchell
Member Since: 1982
Inducted: 2007
A maverick on many issues the BSL has faced over the years, Warren's actions, persistence, opinions have been both a challenge and inspiration to all. No one can deny the zeal in which he approaches matters concerning the welfare and future of his family…. the BSL!
Player, BSL Treasurer (6 yrs), Fundraising Committee Member (many yrs), By-Laws Committee Member (many yrs), "On Deck" Co-Creator and Writer (First BSL Newsletter, 6 yrs), Minuteman Classic Treasurer (first 4 yrs), '91 World Series Bid Committee Member, Executive Committee Member (many yrs), BSL Audit Committee Member ('07).
Teams: 1270 (1st Team, 1 yr), Paradise (4 yrs), Ramrod (6 yrs), Buddies (3 yrs), Club Café Saints (1 yr), Club Café Angels (6 yrs)
Awards:
Commissioners Award - '06
Silver Medal at the '06 Gay Games in Chicago (Club Café Angels Team, Div. B, Softball)
Team MVP (5 times)
4 League Championships: Ramrod '84, '85; Paradise '87; Buddies '88 (Constitution Division playoff winner)
6 World Series appearances:
Best finishes: 2nd Place: '04 Dallas, Club Café Angels (Div. C); '02 Portland, OR as pick-up player of Fritz Southenders (Div. C)
Tournament appearances (many):
Best finishes: 1st Place (7 times): As player, Club Café Angels: '07, '06, '05 Washington D.C. (Div. B); '05 Montreal (Div. A); '03 Philadelphia (Div. C). As player, Boston Patriots: '03 Montreal (Div. A). As pick-up player Club Café Crew, '02 Canada Cup (Div. B).
2nd Place (4 times): As player, Club Café Angels: '06 Gay Games Chicago (Div. B); '05 New York (Div. C); '04 Ft. Lauderdale (Div. C); '03 New York (Div. C).
BSL Team Participation beyond the BSL:
Providence RCSL Fall League (6 seasons):
1st place (3 times): '05, '04 Div. 1 as player, Club Café Angels; '02 as player Fritz Southenders.
2nd place( 2 times): '06, '03 Div. I as player, Club Café Angels
Dorchester Cardinal League (3 seasons):
1st place: '05 as player, Club Café Angels
He came to Boston from Chicago and began his BSL experience a couple months before his 21st birthday. He loved it, felt he found a second family and was determined to 'give back' to his BSL family. The next season, he did so by co-founding the "On Deck" BSL newsletter, co-editing it for 4 years, and writing numerous articles of interest for the benefit and information of all BSL members for 6 years. During the same period, he served 3 years as Treasurer for Boston's Minuteman Classic Tournament and became BSL Treasurer for 3 years. Being a League Officer encompasses more than the job title, Warren did everything that needed doing and was happy to help out. But as Treasurer in the 80s; he was involved in helping get BSL / Minuteman corporate sponsorship in 1987, filed for and received IRS and State non-profit designation, used investment vehicles to generate over $2,000 interest income for the league, donated over $1,500 to various community groups, and was instrumental in gaining approval for absentee ballots for BSL elections. Warren's spirit and efforts caught the attention of many and his example attracted others, especially newer BSL members, to lend a hand and serve as League Officers during the 90s while he returned to write and co-edit the "On Deck" newsletter, served on every By-Laws Committees, and on the '91 Boston World Series Bid Committee.
In 2003, the sitting BSL Treasurer resigned because he was moving to Florida. Warren decided to put his hat back in the ring and won the special election. He served in that position for three more years with as much vigor, if not more, than before! He focused on fundraising. In 2004, he organized a BSL fundraiser featuring a luxury bus ride to Mohegan Sun Casino in Connecticut for a day of fun including a full buffet in a huge first class private 5 star hotel suite. He also sold 'Lance Armstrong' style bracelets in the 'rainbow' colors called "Playing with Pride". He helped gain sponsorship from KISS 108's 'Matty in the Morning' program to buy and sell BSL T-shirts here and at the World Series in 2005. He also continued his reviews and recommendations as Chair of the By Laws Committee and shepherded a solid financial standing for the BSL during his tenure.
Fairness always played a key role of his focus. He saw that the League was becoming one with new players having less playing experience. Lower division players were now outnumbering the veterans of the upper divisions. These players had minimal sponsorship support but played and had as much fun as he did as a 21 year old. He was determined to channel their enthusiasm because he knew the future of the BSL would depend on it! Traveling to the World Series and tournaments took a financial commitment from players and sponsors. Neither the new players nor their sponsors had such a financial commitment, and that's why Warren put such a big effort into fundraising. He wanted to make sure the newer, less experienced, players were given the opportunity and experience of playing in a tournament. He said it would be a key to the future of the BSL! So, along with Warren's fundraising, the Executive Committee voted in 2005 to redistribute the monies used strictly for the World Series to now be proportionately distributed to teams as a single tournament entry fee in lieu of a World Series stipend. Not everyone agreed with the idea, but Warren's good intentions were clearly recognized!
Warren continues his League involvement and team play, today, with the same energy he came to the League with in 1982!