Inductees
2000 Era
1990 Era
1980 Era
1970 Era
Listed by:
Season joined, or the part of a season joined.
Alphabetical by last name.
RIP is deceased, Rest in Peace.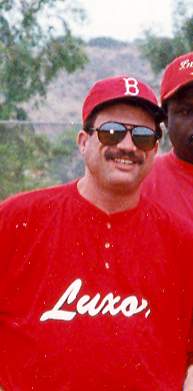 Inductee: Vinnie Peruzzi
Member: 1981-2004
Inducted: 2006
Player (many teams, 24 yrs), Coach (4 yrs), Fundraising Volunteer (many years)
A well-known Boston Radio Celebrity for three decades, Vinnie was also an extremely devoted member of the BSL during those years. He loved the competition and was delighted that a League like this existed! He loved everything about the BSL and gave generously of his time, money and affection to his teams and the League. He contributed the resources of his professional career to raise funds for the BSL with events like "Harbor Music Cruises" and promoted the BSL on the air whenever he could. Many times, BSL players would call into the radio station to say hello or broadcast the news of an important win or score that Vinnie called a 'shout out'.
As a player, he was a consistent performer as a pitcher and outfielder on many different teams over the years, always energizing his teams to perform at their best. His spirit propelled him to become a coach for a few of those years, typically of teams not made up of outstanding talent-but of great spirit like his own. Indeed, Vinnie may not have been the best athlete on the team, but he loved competing with the best-especially at the World Series. In his last World Series appearance before his death in 2004, Vinnie notched a complete game victory at the 2002 World Series in Portland, Oregon defeating New York 10-3!
Prior to his posthumous induction to the Hall of Fame, Vinnie had been sick for a while but didn't complain and kept it pretty much to himself. In July of 2004, he found himself battling against some horrible symptoms with debilitating therapies. Though diminished physically, he kept his bright orange Gator team softball socks on in the hospital bed expecting to be playing the next weekend. In fact, his friend brought him to be with his team at the field on July 10, 2004 against medical advice. Within a little more than a month, he was gone.
The following year, the BSL established the "Vinnie Peruzzi Sportsmanship Award" for Division III. A great tribute to him and to the fun he had. Vinnie was considered by many to have been a 'Star Radio Celebrity" in Boston. But despite his popularity, Vinnie was himself- a gracious person who was not self important but easy to talk to. He was also very devoted to his parents and family frequently speaking about them and updating his friends on their lives. He loved to have fun and bring his friends along too- especially those van rides to tournaments, the Gay Games in New York, the World Series' or on his constant odyssey to ride every roller coaster ever constructed!
Vinnie had a lot of life, a lot of fun, and a lot of love for the Beantown Softball League!