Inductees
2000 Era
1990 Era
1980 Era
1970 Era
Listed by:
Season joined, or the part of a season joined.
Alphabetical by last name.
RIP is deceased, Rest in Peace.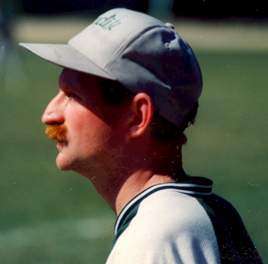 Inductee: John Cutting
Member: 1981-1990
Inducted: 2006
Player (10 yrs), Volunteer (many years)
Teams (many): Paradise, Chaps, Others
Awards: Namesake of the "John Cutting Sportsmanship Award" for Div. II
Nicknamed "John of Arc" for his well placed and sometimes ruthless arc pitches, John is noted in the BSL Record Books as the only pitcher to have pitched a perfect game! Yes, that's right, no hits, no walks, and no runs!
He set that record in 1982 against one of the best teams in the League at the time, Buddies, during the playoffs which makes it all the more impressive. John was perceived to be an ace when it came to pitching the ball where he wanted it. His pitching helped keep his teams at the top of the League, tournaments, and at the World Series. What is surprising, though, is the fact that he had never played softball or baseball before joining the BSL! John was a lover of classical music and was a fine flute player who decided to take up softball as a new endeavor.
Considered very much a "bookworm" type of guy, he held a Ph.D. in chemistry, was of diminutive physical stature, and one of the least athletic players in the BSL. But John applied his intelligence along with some physical and mental discipline to learn the game and how to pitch. After some trial and error, success and failure, it paid off. John began pitching with consistent placement and excellent arc. He found himself going from the last guy off the bench to a starting pitcher. Because of his hard work and determination, we find him as one of the most memorable pitchers in the League's history.
The League also knows him as friend. From the very beginning of his playing days, to when he was in his prime, his teammates and friends enjoyed his affable good nature and humor. He never seemed to show frustration or anger when things didn't go quite the way he had wanted or hoped, he just kept plugging along, trying harder, and giving encouraging words to those who needed them. He truly was a great example to everyone about dedication and determination in learning and developing one's skills consistently each season. He did it all with a smile and enjoyed every minute of it.
After John's untimely death from AIDS in 1990, the BSL recognized John and his determination by establishing the "John Cutting Sportsmanship Award" for Division II. This tribute was made with the hope that all BSL members would remember John, his good nature, and his determination to succeed as a BSL player!