Inductees
2000 Era
1990 Era
1980 Era
1970 Era
Listed by:
Season joined, or the part of a season joined.
Alphabetical by last name.
RIP is deceased, Rest in Peace.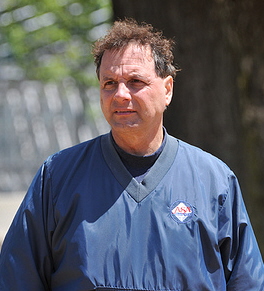 Inductee: Bob "Bucky" Bucchino
Umpire Since: 1980
Inducted: 2008
Bucky serves as a perfect example of how important every role is toward making a strong and enduring BSL. His professionalism and dedication for over 30 years as an umpire is equal to any BSL player who has taken the field!
Umpire
BSL Umpiring:
Umpire-In-Chief - 20 seasons
Regular season umpire - 31 years
Post season umpire and Umpire-In-Chief
Minuteman Classic Umpire - many years
Minuteman Classic Umpire-In-Chief - many years
NAGAAA Umpiring Activities: Umpired in 4 World Series (Houston '84, New York '86, Boston '91, Minneapolis '96
From Bucky's Induction speech
When Bucca approached me and said he intended to nominate me for the BSL Hall of Fame, I must say that I was humbled and somewhat surprised. On my ride home that day, I thought about our conversation more intently. I realized that Bucca was probably going out on a limb for this nomination, that he might receive a good deal of resistance for such a proposal and that there must be other nominees who have made more significant contributions to the League than I.

At best, this would be a long shot. However, due to my ultimate respect for him, I was not going to undermine either his thoughtfulness or his efforts. Whatever would happen would happen. I had come to the aforementioned conclusions for the following three reasons; first- for the past 29 seasons I have provided a service to the League which I believe has been professional, hardworking, courteous, and dependable. However, despite these qualities, I have been compensated for such delivery. Second- in my role as arbitrator for over 1000 plus games, including playoffs, numerous Minuteman 4th of July Tournaments, and four World Series (Houston, New York, Minneapolis, Boston) there have definitely been many close plays and subsequent rulings that may not have bowed well with certain individuals and teams thus creating a scenario where someone may have gone away feeling that they were treated less than fair and just. Would such sentiment result in a negative or abstained vote toward my Hall of Fame nomination?

Third- and in my mind probably most important, would be that I would be setting a trend as the first member of the Hall of Fame who is neither a sponsor, coach, player, nor a direct member of the community. That being said, I cannot tell you how greatly honored, humbled, and thankful I was when I was notified of my selection to a Deus which consists of such wonderful individuals who have made such heartfelt and dedicated athletic and social contributions to this exemplary and unique League.

My BSL story begins on a Saturday in May in 1980. At that time Carl Deluca who was Umpire-in-Chief of the League, asked if I were available to umpire three games with him the next day at the Fenway. Seeing that I was playing in three Leagues, umpiring baseball and softball, but coincidentally had no that particular afternoon, I said I would be available. He never told me what the fee was or who the teams were that were playing. He took the plate the first game and I took the bases and up to that point, everything seemed fine. However, from my perspective, that changed quickly. The leadoff batter got a base hit, rounded first base and then returned to the base and kissed the first base coach on the lips. I looked at Carl quite perplexed, and all he did was smile at me. During the half inning, I met him half way down the first base line and my only comment was "Holy shit, what did you get me into!" Again, he just smiled and walked sheepishly back to the plate.

As I look back on that afternoon I realized that had Carl revealed the nature of the League, I would have probably declined the invitation and subsequently not have a BSL story to tell. That one afternoon and its aftermath has provided me with many unique experiences, a changed point of view, a better and more thorough understanding of your community and its lifestyle and its many acquaintances. In the past 30 years I have seen many different facets of the League. From the varied fields-Fenway, Daisy, and now Smith, to the varied styles of Commissioners and their Boards, to the plethora of teams both recreational and competitive, to the players and their wide variety of skill levels, personalities, temperaments, cheers, and lets call them "antics." Your growth and development as a League has helped me to become not only a more skilled umpire, but also a more tolerant and understanding person.

What has enticed me to return each year has been the love of softball, and more importantly, the camaraderie that I developed with so many players, coaches, and umpires. Although I only see most of you over the spring and summer months, the past 30 years have seemed like a continuous season. I have returned each season without any sense of disconnect or unfamiliarity. It seems we pick up in May where we left off in July. Each of you has done your best to make me feel respected and not only as a part of the League but as a part of your community. On many occasions you have not only asked how my winter went, how school is going, how I am doing, but also how are my children doing, most especially "how my son is doing and what sport is he involved in now". I have been gratefully moved and appreciative by your personal concern for me beyond the mere fact that I return each weekend to umpire your games.

In my 30 years of involvement with the BSL, what has had the greatest emotional impact on me has been the loss of many League members to AIDS. I have been most touched by such players as David Bentanelli, Rudy Becerra, and Ralph Cella. Most noteworthy for me was that in a single season, I painstakingly witnessed Ralph playing for Fritz, then sidelined and restricted to a wheelchair due to his dramatically failing health, and finally a week or two later passing on. For all of those young men who have been afflicted with this dreaded decease, may their souls rest in peace. As a father of three healthy and vibrant children, I am continuously distraught and devastated when I think about what the parents, relatives, friends, and the partners of these young men experienced during the time of their loss and thereafter.

In conclusion, I thank you for allowing me to be part of your League and your friendship. I pray to God that he provides me with the strength and health to continue to serve the League. Ladies and gentlemen, your thoughtfulness will never be forgotten.

"Each friend represents a world in us, a world possibly not born until they arrive, and it is only by this meeting that a new world is born."