Inductees
2000 Era
1990 Era
1980 Era
1970 Era
Listed by:
Season joined, or the part of a season joined.
Alphabetical by last name.
RIP is deceased, Rest in Peace.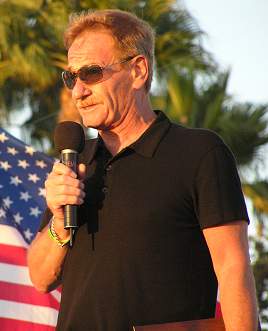 Inductee: Bill Svetz
Member Since: 1986
Inducted: 2005
The greatest way Bill shows his devotion for the BSL is by his service to it. As the longest serving commissioner, the welfare of the League has been Bill's top priority. But even when not commissioner, he is clearly focused on helping serve the League's best interests. Easily approachable and engaging, Bill's love of the BSL quickly shines through.
Sponsor, BSL Commissioner (9 yrs), Coach (22 yrs), Executive Committee Member (Team Rep., many years), NAGAAA Rep. (16 yrs), Finance Committee Chair, '91 World Series Boston, Minuteman Classic Committee Member (many years)
Teams: Fritz (1st team, 22 yrs), Fritz Southenders (17 yrs), Victoria House Team (4 yrs), Fritz Falcons (4 yrs), Fritz Raiders (3 yrs), Tatoo (2 yrs), Fritz-All Women BSL Team (1 yr)
Awards:
Commissioners Award (4 times from 4 different Commissioners)
Sponsorship: Generous sponsor of six softball teams and of teams in other sports over 22 years. Bill's leadership of the annual Gay Pride Block Party since 1988 has provided the opportunity for many BSL teams to raise funds for themselves. Bill's efforts in securing sponsorships from local and national distributors have also raised significant funds for the BSL.
Team (Best League Finishes):
1st place: Fritz (Div. I) '86, '90-'00, '02-present; Southenders (Div. II) 6 times between '90-'03
2nd place: Fritz (Div. I) '87, '01; Southenders (Div. II) 5 times
21 World Series Appearances: '86-'89, '91-present
Best finishes:
1st place: '92 Los Angeles, Fritz (Div. A); '98 Atlanta, Southenders (Div. C).
2nd place: '93 Philadelphia; '94 Nashville; '98 Atlanta, Fritz (Div. A); '02 Portland, OR, Southenders (Div. C)
Tournament Appearances, (many):
Best finishes:
1st place: '90 Chicago, Minuteman Classic Boston (4 times), Houston (tie), Fritz (Div. A); '91 Boston, Southenders (Div. C); '88 Minuteman Classic Boston, Fritz Raiders (Div. C).
2nd place (numerous): Birmingham; Houston; Minnesota; Phoenix; Norfolk; San Francisco(twice), Fritz (Div. A).
3rd place: '97 Chicago, Sothenders.
4th place: '91 Minuteman Classic Boston; '90 Gay Games Vancouver, Fritz (Div. A).
Bill and his partner of many years now, Steve, were fans of the BSL before Bill actually became a member. In the mid 1980s they enjoyed watching the competitive games at Clemente Field between such BSL powerhouses as Buddies, Paradise and Ramrod. As manager of Fritz, Bill hired Gary Staples of the former 'Buddies' night club which had just burned down. Gary had also been the manager of the Buddies Softball Team and in 1986, without a sponsor, he asked Bill if he would be interested in being the team's new sponsor. Bill happily agreed. Two years later, Fritz and the Ramrod team decided to combine forces and formed a powerful new Fritz team within the BSL and in NAGAAA.
Bill soon found himself very much involved in the BSL and in the league's desire to win the bid to host the NAGAAA World Series. After deliberation, NAGAAA gave Boston the nod over Long Beach as host for 1991! Although Bill feels NAGAAA wanted an east coast World Series, liked Boston and enjoyed its 'Minuteman' Tournament - a deciding factor was a $40,000 sponsorship grant from Coors Brewing Co. he helped get the ball rolling on. With the involvement of Bill and others - the NAGAAA/Boston World Series turned out to be quite a success, turning a profit of more than $120,000 through concessions, a 'beer garden' at Smith Field and a record setting Talent Show held at the Lafayette Hotel! All of the profits were donated to charity with a major portion donated to the Fenway Health Center and to construct an "Our Names Wall" there in memory of the many BSL players, their family members and friends lost to AIDS.
Because of the success of the World Series, Bill became Finance Chairman of the 'Minuteman Classic Tournament' here in Boston, was elected Commissioner and became a perennial leader in NAGAAA serving on many committees including the Athletic, Hall of Fame, Division Brackets, and Protest Committees. Because of his efforts, Boston has been considered a key representative at every NAGAAA meeting. Nowhere, however, has he worked harder or dedicated more time than to the BSL itself. Almost every year, he has been able to secure sponsorship grants for the League and each year includes many BSL teams in the annual 'Gay Pride Block Party' as a means for them to raise funds for their own teams. No matter what the issue or what the problem, Bill has always been positive in trying to bring people together by reaching out to help everyone find a solution!