Inductees
2000 Era
1990 Era
1980 Era
1970 Era
Listed by:
Season joined, or the part of a season joined.
Alphabetical by last name.
RIP is deceased, Rest in Peace.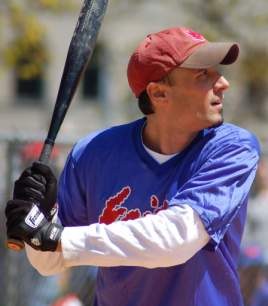 Inductee: Ed Rivera
Member Since: 1989
Inducted: 2007
When he debuted in '89, Ed hit the ball hard to all fields, ran like a deer, started many rallies as a leadoff man and stopped many rallies with diving catches. Nothing has changed since! Not only is Ed an excellent player, he is a gentleman, consummate teammate, energetic new coach, and an exemplary member of the Beantown Softball League.
Player, Manager (1st year)
Teams: Luxor (1st Team, 3 yrs), Citi (1 yr), Paradise (1 yr), Buzz (1 yr), Club Café (3 yrs), Fritz (7 yrs), Diablos (1st year)
Awards:
BSL Rookie of the Year in '89
BSL Defensive Player of the Year
Gold Medal Team member at the '90 Gay Games in Vancouver (Co-Ed Softball team)
'06 League Defensive Player of the Year (Div. I)
'06 League Hustle Award (Div. I)
Team MVP awards (multiple)
6 League Championships: Fritz '02-'07
15 World Series appearances: '89, '90, '91, '92, '93, '94, '98, '99, '01, '02, '03, '04, '05, '06, '07
Best finishes: 1st place '92 Los Angeles (Div. A) as pick-up player Fritz
Tournament appearances (many): Including Houston, Atlanta, San Diego, New York City, Washington, D.C. (1st place '06 as pick-up Club Café Angels (Div. B)
BSL Team Participation beyond the BSL:
Dorchester Cardinal League: 1st place '06 as player Alley Gators
Ed is a very skilled athlete with many friends in the Beantown Softball League. Never one to brag (too much), Ed is a very easy going, friendly, and well liked member of the Beantown Softball Community. He loves being out in the field, having fun - but when the pressure's on, he knows how to turn it up a notch and draw upon his excellent athleticism from his many years of experience in the League. He's known for making several "Web Gem" worthy sliding, rolling, and diving catches in the outfield!
Although Ed is somewhat 'quiet' by nature, he sometimes goes unnoticed at first (except for his 'legions of admirers') but make no mistake, he is one of the best outfielders in the country!
Being in the League for these many years, Ed has seen many players come and go. His friendly personality, warm smile, years of experience and love of the game make him a true asset to the Beantown Softball League.