Inductees
2000 Era
1990 Era
1980 Era
1970 Era
Listed by:
Season joined, or the part of a season joined.
Alphabetical by last name.
RIP is deceased, Rest in Peace.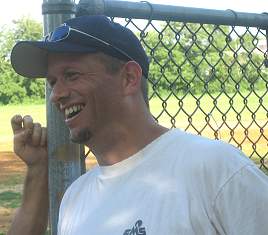 Inductee: Peter O'Leary
Member Since: 1990
Inducted: 2007
Over the years, Pete has grown from a talented rookie into a well-respected elder statesman. He is constantly helping his teammates in a variety of capacities – from hitting tips to how to prepare for tournaments. And, because other BSL teams also know his talents, he is always one of the first players to be invited along to join them as a teammate for a tournament or World Series.
Player, BSL Assistant Commissioner (2 yrs), BSL Executive Committee Member (Team Rep., many yrs), BSL Hotline Creator (First League Hotline), BSL Website Developer (First League Website)
Teams: Luxor (1st Team), Club Café Devils, Mike's Gym Devils, Alley Gators
Awards: BSL Offensive Player of the Year, Div. 1 - 2 times (nominated 5 times); Team MVP Award - 4 times; BSL MVP, Div. 1 - Nominated 3 times
7 World Series appearances (competed as a player in Div. A, B, C): '97 San Diego, Luxor Jox (Div. A); '01 San Francisco, Fritz, (pick-up player, Div. A); '02 Portland, Stallions (pick-up player, Div. C); '04 Dallas, Boston Force (pick-up player, Div. C); '05 San Diego, Alley Gators (Div. B); '06 Ft. Lauderdale, Alley Gators (Div. B); '07 Phoenix, Alley Gators (Div. B).
Tournament appearances (many):
Best finishes:
1st place: '05 New York (Div. C) as player Alley Gators; '03 New York (Div. C) as player Alley Gators; '98 Ft. Lauderdale (Div. B) as player Luxor Jox; '96 Toronto (Div B) as player Luxor Jox
3rd place: '07 San Diego (Div B), Alley Gators
BSL Team Participation Beyond the BSL:
Dorchester Cardinal League (2 seasons):
1st place: '06 as player Alley Gators
On the field, Pete is a fearsome competitor and will always be known first and foremost for his offense. A Revere native, Pete has a graceful swing that allows him to regularly rip line-drives to left, left-center and center field. He's also left many a BSL pitcher shaking their heads with his ability to hit long home runs to all fields. His consistency over the years has been amazing and it is one of the hallmarks that make him a Hall of Famer. Whether it was a clutch late-inning hit to lead a comeback or an early-in-the-game homer to set the tone, Pete is someone who has been able to impose his will on a game. This also is an important Hall-of-Fame trait.
Defensively Pete was a top notch second baseman in his day, ranging far to his left and right to make difficult plays. In addition, Pete has always been very good at turning the double play thanks in large part to a very strong throwing arm. Not to be outdone, Pete is also a savvy base-runner where he is fearless about grabbing an extra base.
Off the field, Pete has also served the league and his team unselfishly. He is a former BSL assistant commissioner and has been active in a number of other league areas – most notably he created the league's first Web site and phone hotline back in the late 1990s. Pete has been active on our teams, serving as team rep and team treasurer.
"I'd like to thank my current teammates – The Alley Gators. I've played with the same team since I've joined the league – we've had several sponsors over the years – but have kept a core of teammates that I wouldn't trade for anything. These guys are some of the best friends and teammates anyone could wish for. I also want to thank all of the teammates that I've played with over the course of years. Thanks to those players that I've played with during tournaments and those that I've played with here in Boston that have moved on to various other teams.
And last, but not least, I'd like to thank family especially my mom, Evelyn, Sister Bonnie, and my niece Jennifer. They've have taken a keen interest in my softball career and supported me throughout my life."