Inductees
2000 Era
1990 Era
1980 Era
1970 Era
Listed by:
Season joined, or the part of a season joined.
Alphabetical by last name.
RIP is deceased, Rest in Peace.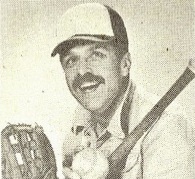 Inductee: Don Homer
Member: 1980-1993
Inducted: 2010
As a founding member, coach, and publicist extraordinaire, Don has left the BSL a wonderful legacy. The passion, fun, and camaraderie that jumped out from his pages of photos and articles in the various community newspapers for more than 14 years helped the BSL become the great community organization it is.
BSL Founding Member, Ratifier of 1st BSL Constitution, Member 1st BSL Rules Committee, BSL Publicist Extraordinaire, Team Founder, Coach, Executive Committee member, Boston's Minuteman Tournament Publicist, BSL Publicist/Participant/Traveler many Tournaments
Note: Because Don has passed away, details of his career may be somewhat incomplete. However, we feel that the work he has left behind with us is a more than an adequate portrayal of Don's value to the BSL!
Please see some highlights of Don's body of work on this HOF Biography.
When the BSL was formed (from the defunct ESL) in 1980, one of the new people who attended the founding meetings was a gentleman named Don Homer. Opinionated at times, assertive, and very astute, Don was a BSL founder who helped frame the first BSL Constitution and By-Laws. He also founded/managed "The Elbow Room" team in our inaugural year.
During those '80's he and his elderly mother, Babe Homer (love that name!), were a fixture at the games as well as at all of the various team and League fundraisers. More importantly, Don wrote a weekly sports column for a series of "GLBT newspapers" called Don Homer's "Bats and Balls". It covered the week's games, published standings, offered commentary on the League and its events, and illustrated full-page photo spreads of BSL'ers at play on and off the field. The HOF is fortunate that several of us "old timers" kept many of these newspapers from the 80's and, although yellowed with age (the newspapers, that is) these pictures and commentaries have filled gaps in the history of the first decade plus of the BSL.
Don loved traveling to tournaments and as a true BSL'er, you could count on Don to lend his support if your team was playing out of town along with his. However, you had to be sharp to not get photographed in a compromising position lest it be "Bats and Balls" lead picture the next issue! Each week, BSL'rs anxiously awaited the paper to see if they made the "spread" and, since Don covered all of the games, there were plenty of pictures. These included center page pictorials of Opening Days with league officers, team pictures, and Opening Ceremonies while other 4 to 5 page pictorials were of the early Minuteman Classic tournaments we held in Boston. To keep this in perspective, this was before the internet and, although the BSL had a newsletter that was published sporadically, Don's weekly column with BSL division standings and box scores was the most current source of what was happening in the BSL. Games, Tourneys, Fundraisers - Don covered them all. He did all of this at no cost to the BSL either, it was a work of love and it helped the BSL become a community.
Sadly, Don passed away in the late 90's. Although we hope the original negatives may still be found, the old clippings saved by many Hall of Fame members are all we have of Don's documentation of the BSL from the 80's and early 90's.
In an all-volunteer organization such as ours, an organization by the GLBT community for the GLBT community, it is important to acknowledge the "behind the scenes" performers as well as the "on the field" performers. Don Homer's many contributions over the years are noteworthy and have left us a wonderful legacy. Don Homer helped make the Beantown Softball League the great community organization it is today.
Don's work attracted countless BSL members to ultimately join the League. The passion, fun, and camaraderie that jumped out from his pages of photos and articles made so many want to be part of this wonderful BSL organization! Thanks to Don new players entered the BSL already affected by that contagious BSL passion he spread.
Now, the Hall of Fame itself has had a frontline opportunity to see how significant Don's work is to the BSL legacy! Much of what it has learned and documented about the BSL, Don taught it through those photos and articles which spanned a period of nearly a decade and a half. These seemed to be a "glory days" period of the BSL - a young and vivacious League in its formative years! His coverage of "everything BSL" was hugely important in building such a strong foundation that this League rests upon today!
And the HOF received all of his work from members of the HOF who graciously donated their "Don Homer Collections" which they had kept near and dear to them for over 30 years, carefully preserved inside unique storage places as part of their precious lifetime memories! These "Don Homer donations" now account for a significant portion of the "BSL/HOF Archives", arguably among the most significant of the entire archive!
The BSL Hall of Fame proudly recognizes Don's great and meaningful contributions to the BSL, and their immeasurable value during those formative years, now, and in the BSL's future!