Inductees
2000 Era
1990 Era
1980 Era
1970 Era
Listed by:
Season joined, or the part of a season joined.
Alphabetical by last name.
RIP is deceased, Rest in Peace.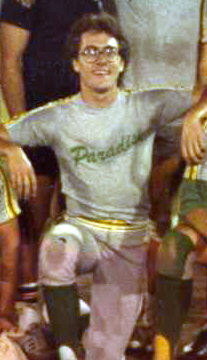 Inductee: Jeffry Pike
Member: 1979-1988
Inducted: 2009
As a teammate Jeffry was always extremely supportive and encouraging, focusing on the positive and recognizing everyone's potential. He is also blessed with tremendous energy and multiple creative talents which he applied in his many contributions that benefited the BSL and its history.
Player, BSL Secretary (1 yr), BSL Executive Committee Member (6 yrs), BSL Founding Member/Organizer (1979-'80), Minuteman Classic Co-Chair (1 yr), Minuteman Classic Advertising & Publicity Co-Chair (2 yrs), Minuteman Classic Organizing Committee Member (3 yrs), Minuteman Classic Housing Committee Member (1 yr), Snowflake Co-Creator/Organizer, S.C.O.R.E. Chair/Creator (Softball Competition Or Recreational Enjoyment - a BSL developmental program for beginner level players), BSL "On Deck" Co-Editor/Designer (BSL Newsletter, 4 yrs), NAGAAA "Pressbox" Newsletter Writer/Contributor (1 yr)
Teams: 1270 (1st team, 3 yrs), Paradise (5 yrs), Copley Flair (2 yrs)
Team Best Finishes:
1st place: Paradise, '87 as player
2nd place: Paradise, '86 as player
4th place: 1270, '79 as player
Awards, Recognition: Commissioners Award Recipient '85, BSL All-Star '80 (Competition for Jimmy Fund Charity)
Tournament appearances (multiple):
New Jersey-Metro Tournament: 1st Place, '84 as player
Dallas: '84, '86 as player
Minuteman Classic, Boston: multiple years as player
Other BSL Activities:
League Designer (Artwork design/rendering/sketching/drawing/graphics/sewing/production)

Esplanade Softball League:

Ads and posters for ESL boat cruise fundraisers '79
Design and sewing for League banner and Paradise team banner for World Series (Milwaukee) '79

BSL:

League logo '80, BSL banner design and sewing '80, Opening Day program '80
League logo redesign, and stationary '83, Pocket schedule '83-'84, World Series program ad (Chicago) '83
Minuteman Classic logos, stationary, and posters '84-'85
League poster, co-designed with Rudy Becerra '87
League ad in "From All Walks of Life" event brochure '87, League ad for Metro '87

League Fundraiser (Organizer/writer/director/choreographer/performer/publicity)

Spikes to Heels, Paradise Team fundraiser for the BSL '82
Oklahomo, 1270 Women's team World Series fundraiser (Chicago) '83
The Un-Natural, Copley Flair and Randolph Country Club fundraiser for the BSL '84
Fairy Mason and Case of the Poison Pansy, Copley Flair Team fundraiser '84
The Guy, Paradise Team fundraiser for the AIDS Action Committee Housing Fund, raising $4,000 '86
Off-White & the Seven Dwarfs, Paradise Team fundraiser for AIDS Action Committee Housing Fund, raising $1000 '87
Shoot the Moon, World Series fundraiser for Paradise Team (San Francisco) '87
Click here to see some of Jeffry's drawings.
Jeffry embodies the true spirit of what the BSL is meant to be. An outstanding athlete who has competed not only in gay softball but also in soccer, ice hockey, volleyball, and tennis, Jeffry spent most of his BSL career as an outfielder on the Paradise team. He was graceful in the field, and had quite a bit of "pop" at the plate in addition to his exceptional speed. As a teammate Jeffry was always extremely supportive and encouraging, focusing on the positive and recognizing everyone's potential.
But Jeffry's on-field play only represents part of the picture here. Jeffry was, and I'm sure will always be, a 'doer'. He is blessed with both tremendous energy and multiple creative talents. The BSL was fortunate that Jeffry applied his considerable skills to benefit everyone in the league. One can appreciate this through his artistic contributions alone: the numerous posters, logos, banners, etc. Jeffry created commemorate the history of our league. Beyond this, however, Jeff took on challenging projects such as co-chairing the Minuteman Classic; creating and organizing the Snowflake Classic; designing and writing for the BSL newsletter. And then there were the many shows he masterminded that raised thousands of dollars for the league and for worthy community organizations such as the AIDS Action Committee. Only his teammates could truly appreciate the time and effort that Jeffry put into these "extravaganzas." And Jeffry did, literally, everything to bring his ideas to life: the writing, directing, choreography, performing, costume design, production, and posters. Not to mention cajoling his teammates into agreeing to risk humiliation in front of their peers by performing in drag, something that had never been done before within the BSL. This took some courage from the players, but no one would have dared to take the stage if Jeffry had not been the guiding force. These shows were very successful, not only in raising money, but in bringing the league members closer together, and in creating even stronger bonds within an already tight knit team.
People may think first of the intensity Jeffry brought to organizing events and the energy he put into making them successful, but Jeffry brought that same intensity and energy onto the ball field. As a trained dancer with powerful legs, he was one of the quickest runners down the first base line (and the most graceful crossing home plate). That speed, and even a bit of jumping ability, also made him a versatile outfielder-the guy his team would tap to squeeze an opponent by slipping into the short fielder position. Jeffry was the consummate team player, although not the rah-rah type, he always had encouraging words to keep teammates "in the game." In the same way Jeffry pushed himself athletically to improve as a dancer, and softball players to become "stage" performers. Jeffry pushed himself and helped teammates to become better players. In all aspects of his life, which included playing, organizing, and performing for the BSL: Jeffry's actions screamed "put your best into it, and you'll be able to take the most out of it!" He lived that creed for himself and helped his teammates and other BSL members do the same.
When Jeffry joined the BSL, EVERYTHING was new. It was first times for EVERYTHING: a League constitution of rules and by-laws, League schedules, League teams and players, League events, League Minuteman Tournaments, League Fundraising, League publicity, League outreach to the community for new players/sponsors/supporters, and League communications to its own members. Jeffry was right up front, involved, frequently a leader, and always a factor for the BSL's success in every one of these NEW efforts that the League was making. Jeffry was the premier "go-to guy" for so many things during so many years. His great interest and energy for getting the important things planned and then completed was often taken for granted, but only because Jeffry didn't mind at all. He did much more than his share, and was happy to do it. He knew this young BSL had great potential as a League and as part of the larger community too. Jeffry's underlying hope for the BSL from the very beginning was that it should be a League available to everyone in the GLBT community. He put a huge amount of effort, hard work, and sacrifice towards that goal. The BSL, Volleyball, and Soccer leagues were among the first "organizations" in the GLBT community that were the building blocks for the GLBT society/community that stands today. That they are athletic organizations, instead of charitable or political organizations, does not diminish the value of their contributions to the greater community, and Jeffry was one of their "pioneers", an "athlete pioneer" involved in them all. He is very pleased about the growth of the BSL and how fully it represents the community now more than ever. The BSL has benefited greatly from his energy and efforts and we hope his story can be spread to every generation of the BSL community and inspire others to give their own individual energy to it as he did! The League needs people like him! Jeffry's vision for the BSL was for the league to be always inclusive of players of all abilities. Although Jeff was a skilled and competitive player himself, he never lost sight of the bigger picture, keeping in mind that the BSL existed so that gay people could play and compete in softball in a supportive, nurturing environment regardless of past experience or innate athletic ability. Jeff is a champion of the league and all it represents, a true Hall of Famer.