Inductees
2000 Era
1990 Era
1980 Era
1970 Era
Listed by:
Season joined, or the part of a season joined.
Alphabetical by last name.
RIP is deceased, Rest in Peace.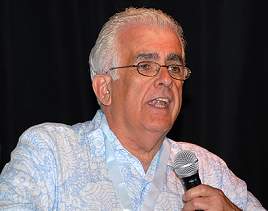 Inductee: Jack Campbell
Member Since: 1995
Inducted: 2007
Jack's commitment to the BSL and gay sports in general is unmatched. His dedicated sponsorship, fundraising and committee work are motivated by his desire to assure fair and competitive play which promotes even greater opportunities for every player and team!
Non-playing Member, Co-sponsor (5 yrs), Sponsor (3 yrs), BSL Election Committee Member (5 yrs), Clinic Day Volunteer (3 yrs), BSL By-laws Committee Member (1 yr), Hall of Fame Committee Member (3 yrs), Minuteman Classic Transportation & Special Events-Chair (2 yrs), BSL Executive Committee Member (1 yr)
Teams: 5 Star Generals (1st Team, 9 yrs non-playing member, 4 yrs co-sponsor), Jackhammers (3 yrs sponsor), Diablos (co-sponsor '07)
Awards: Commissioners Award - '97, '98, '99; 5 Star Generals Team Spirit Award - '03, Nominated CanAm Award (Toronto Tournament) - '01 (lost by one vote)
6 League Championships: Jackhammers - Div. I '00&'01, 5 Star Generals - Div. II '96, '97, '02, '04
6 World Series appearances: 5 Star Generals - '97, '03, Jackhammers - '99, '00, '01; Diablos - '07
Best finish: 1st place '00 Toronto (Div. B), sponsor of Jackhammers. Also attended 6 other GWS as fan & supporter.
Tournament appearances (many):
Best finishes:
1st place (3 times): 5 Star Generals, '04 Montreal (Div. C), '97 Washington D.C. (Div. C), '97 Chicago (Div. C)
2nd place (3 times): Jackhammers (Div. B), '00 Phoenix; 5 Star Generals, '98 Washing D.C. (Div. C), '96 Chicago (Div C)
3rd place (2 times): Jackhammers, '99 Ft. Lauderdale (Div B); 5 Star Generals, '98 Minnesota (Div B)
Other: '98 Cleveland MIST Tournament Cleveland - as a playing member, '99 Chicago Windy City Blowout
Jack was all too aware of the need for many individuals in our community to find a network outside of the bar scene. So in 1995, when a group of people sat down with Jack and asked him to explore the possibility of obtaining sponsorship from a company or venue, other than a bar or restaurant, he quickly agreed to help out. Within hours of that meeting, Jack went to 5 Star Travel Services to ask if they would co-sponsor a team. Thus the 5 Star Generals were born and the rest is history. Shortly after the 5 Star Generals came into the BSL, Jack became a fixture at most of the league games, Executive Committee meetings, and NAGAAA World Series.
During the off season in 1998, along with Sandro Frattura, HOF '05, Jack began recruiting players for a new competitive team. His keen observations at so many of the league's games helped out. The Jackhammers, as the team was named, lasted only three short years but in that short time span, won two upper division championships (becoming the first team in seventeen years to dislodge Fritz from that position) and in 2000 brought home the "B" Division trophy from the NAGAAA World Series in Toronto. In 2001, at his own expense, Jack journeyed to the NAGAAA winter meetings in San Jose and single handedly successfully lobbied the NAGAAA board for a change in the rules to allow the "Hammers" the right to defend their championship title.
Events in the off season of 2001 brought an end to the Jackhammers, but not Jack Campbell's interest and commitment to our league. Jack resumed his keen interest in the 5 Star Generals, served on the Boston Minuteman Tournament Planning Committees for two years, the By-laws Committee and as a member of the Hall of Fame Committee since its establishment. In the summer of 2003, as the 5 Star Generals prepared to go the World Series, Jack's yeomen efforts in organizing an auction for the team raised over ten thousand dollars in one evening.
Jack's fundraising efforts, have not been limited to just his teams. In recent years such teams as Fritz, the Machine, the Force, the Southenders, and the Alley (as well as the Montreal and Toronto gay softball leagues) have benefited from Jack Campbell's ability to convince either 5 Star or an airline to donate plane tickets for raffles. One hot summer day a few years ago, he was even flipping hamburgers at Smith Field to help the Machine team raise funds. In addition, after the very first clinic day, Jack convinced the folks at Buzz to return to the BSL as a sponsor of a new recreational team. He also negotiated group travel contracts that provided many of the league's officers with free airfare to NAGAAA meetings and on more than one occasion subsidized league players, who could not afford the airfare, with free tickets he had earned for himself.
In 2007, when a small group of predominately Latino players made known their desire to form a new "C" division level team, Jack committed to helping them organize and raise the necessary funds to launch their fledgling team. In February, Jack launched a "Dieting for the Diablos" effort resulting in a much slimmer Jack Campbell and nearly $4,000 in contributions to the new team.
There has never been any doubt about Jack's commitment to the BSL because he keeps renewing it season after season!