Inductees
2000 Era
1990 Era
1980 Era
1970 Era
Listed by:
Season joined, or the part of a season joined.
Alphabetical by last name.
RIP is deceased, Rest in Peace.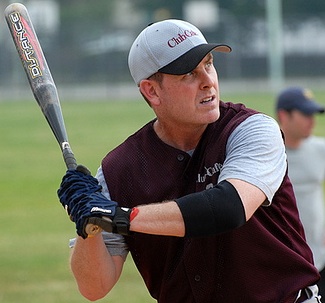 Inductee: Chris Burke
Member Since: 1994
Inducted: 2006
As he competes with his self developed skill and works extremely hard to win, Chris conducts himself with the class and grace that stem from having life in proper perspective. Win or lose, he always shares a word of encouragement or a compliment for a job well done and is recognized as an ambassador of sportsmanship to rookies and veterans alike.
Player, BSL Executive Committee Member (Team Rep., multiple years/teams), Minuteman Classic Volunteer (2 yrs)
Teams: Club Café Crew / Jackhammers (8 yrs), Luxor Jox (1st team- 4yrs), Ramrod Falcons (1 yr)
Awards:
Div. I Sportsmanship Award
Div. I Best Offensive Player - '00
Div. I Best Defensive Player (multiple yrs)
Team MVP (multiple teams/years),
League MVP '99, RCSL, Providence
10 World Series appearances: '97-present
Best finishes: 1st place '00 Toronto Div. B, Jackhammers
Tournament Appearances (many):
Best finishes: 1st place: Toronto, Ft. Lauderdale, Montreal (multiple), Chicago, Washington D.C.
Providence RCSL Fall League (8 seasons): Multiple teams & finishes
RSMSL Fall League (Ricky Silvia Memorial Softball League, 3 Seasons): player, coach
Dorchester-Cardinal League (3 seasons): Club Café Crew (1 yr), Club Café Angels (2 yrs),
Best finish: Champions '05
Smith Field/Media League (3 seasons): Club Café Crew (3 yrs)
Best finish: Champions '06
No organization has meant more to me than the BSL, a place where I have thrived in my love of the sport, played with and against some of the best people I have ever met, and fallen in love (sorry, Sean--the true love of my life!!) with the seemingly unlimited opportunities the BSL has opened up for me. I am honored to be counted among such great people, both alive and deceased, and mostly honored to share my love of softball with so many great people for so many years!