Inductees
2000 Era
1990 Era
1980 Era
1970 Era
Listed by:
Season joined, or the part of a season joined.
Alphabetical by last name.
RIP is deceased, Rest in Peace.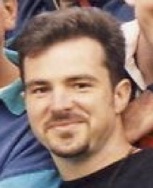 Inductee: Richard Twomey
Member: 1989-2006
Inducted: 2010
An all-around contributor to Boston gay softball, and one of the most spirited league members in BSL history, Rick consistently brought a positive attitude to share with all his "teammates" which helped all of them perform better. He committed himself to "give back" to an organization that gave him such a rewarding experience, and did so through his spirit and service to the League.
Player (18 yrs), Co-Coach (6 yrs - 5 w/ Southenders, 1 w/ Club Café), BSL Commissioner (1 yr), BSL Assistant Commissioner (3 yrs), Snowflake Classic Event Chair (4 yrs), BSL Clinic Day Committee (4 yrs), "Ball for All" Event Committee (3 yrs), '91 Boston World Series Organizing Committee, By-Laws Committee (various yrs), Field Maintenance/Scheduling Committee (4 yrs), NAGAAA Finance Committee Chair (5 yrs: 2005-present)
Teams: Buccaneers-1st Team (1 yr), Club Café (2 yrs), Southenders (15 yrs)
Awards: Most Valuable Player, Div II, 1997; Sportsmanship Award, Div II, 1994; Sportsmanship Award, Div II, 2003; Team MVP awards, 2002 & 2006.
Team Best League Finishes: Fritz Southenders (1st or 2nd place)- '98, '99, '00, '02, '03, '05.
8 World Series appearances: '95, '96, '97, '98, '00, '01, '02, '05
Best finishes: 1st place '98 – Atlanta, (Div C -Champion), as player – Southenders; 2nd place '02 – Portland, (Div C), as player/Co-coach – Southenders; 6th place '00 – Toronto, (Div C) as player - Southenders
15 Tournament appearances (approx):
Best finishes: 1st place: '03 – Montreal (Div A), as player/coach – Southenders; 2nd place: '01- Toronto (Div II), as player – Southenders, '00- Orlando (Div C), as player – Southenders
BSL Team Participation Beyond the BSL:
Providence RCSL Fall League (8 seasons): Best finishes: 1st place '02, as player/coach with Southenders
Rick Twomey started his BSL career as a founding member on what was probably the most spirited, and probably the LOUDEST team in BSL history—the Buccaneers. After a short stint on Club Café's Angels, he found his true home on another spirited and loud team—the Southenders. Rick and the Southenders showed their team spirit to the league for 15 years. And Rick has shown his BSL spirit as a volunteer, team coach, and league officer.
Rick's "all-around" contributions include:
As a player, Rick has been the ultimate "team player", having played every position his team needed— including learning to pitch later in his BSL career. Rick's solid play was key in making his teams competitive — finishing as champion or runner-up six times in the BSL, as champion or runner-up twice in tournaments, and in 8 GSWS appearances where he helped win a championship and then a "runner-up" prize four years later.
As a team leader, Rick has been a coach, co-manager and manager of BSL teams. He did the thankless tasks of organizing practices, making lineups, and all the administrative crap for teams that played in the BSL and RI fall league, literally dozens of tournaments, and multiple times at the Gay Softball World Series.
Service to the League: Rick served as BSL Commissioner after serving 3 years as Assistant Commissioner. In both roles, he always worked to make the BSL a positive experience for all league members. Ricky was an officer during the first 4 years of our recent unprecedented growth, helping put together the original Clinic Day event as well as the next 3 years' Clinic Days. Ricky also resurrected the popular Snowball Classic event.
National gay softball involvement: Rick served 4 years as a BSL delegate to NAGAAA, and continues his NAGAAA involvement as the current finance committee chair.
In all of these endeavors, Rick consistently brought a positive attitude to share with all his "teammates" which supported and helped all perform better. Rick's hard work continually distinguished him in all of those activities, as well as his many other involvements with the league. And as so many BSL'er know, Rick is a fierce and great friend to have.
Over the years, Rick has stated many times how important and rewarding his many years of involvement in the BSL has been for him. There's a depth of feeling that comes through each time he discusses it—and his long term and wide-ranging involvement demonstrates the genuineness of his commitment to give back. It's fitting that the BSL Hall of Fame takes this opportunity to recognize Rick's spirit, service, and commitment to the Beantown Softball League!