Inductees
2000 Era
1990 Era
1980 Era
1970 Era
Listed by:
Season joined, or the part of a season joined.
Alphabetical by last name.
RIP is deceased, Rest in Peace.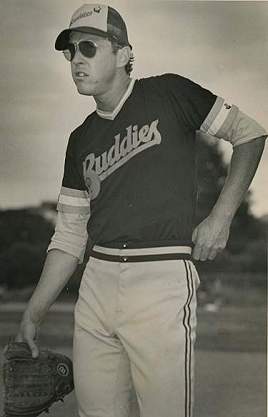 Inductee: Seth Hyde
Member: 1978-'92,2007-present
Inducted: 2005
A BSL Founding Member, Organizer, Commissioner and Player ('79-'80). An Author and "Ratifier" of the original BSL Constitution and By-Laws ('79-'80). Seth's enthusiasm, hard work and dedication played a significant role in making the BSL New England's largest gay athletic organization today.
Player, Manager (3 yrs), 1st BSL Commissioner (1 yr), BSL Secretary (1 yr), Executive Committee Member (2 yrs), NAGAAA Rep. Boston (1 yr) Los Angeles
Teams: Chaps (1st Team, 2 yrs), Paradise (7 yrs), Buddies (1 yr), Copley Flair (2 yrs), Luxor (3 yrs)
3 League Championships: Paradise '81 (1st Baseman); Paradise '87 Competitive Div. (Catcher); Luxor '89 Competitive Div. (1st Baseman/coach).
Competitive Div Finalist:
Paradise '86 (Manager/1st Baseman), Paradise '91 (Manager/2nd baseman)
4 World Series appearances: '79 Paradise (pick-up player), 2nd place; '81 Paradise (1st baseman); '87 Paradise (catcher), 4th place; '89 Luxor (1st baseman/3rd base coach)
15 Tournament Appearances (at least):
Best Finishes:
1st place: Toronto '79; Orange, NJ '85; Philadelphia '91 (Toronto '79 "The Canada Cup", 1st Tournament for a Boston Team. An All-Star team called "Boston Pops" represented Boston's Esplanade League).
Others: Toronto '80, '92; Dallas '85, '86; Washington D.C. '84; Chicago '88; Atlanta '91; San Diego '92; Minuteman Classic Boston '85, '86, '87, '89)
I "came out" in 1972. In 1977 I was going to Red Sox games with my straight friends and then stopping in at a local gay bar, Chaps, on my way home. I would see people at the bar that had also been at Red Sox games so I knew there were other people who, like me, loved baseball and were gay. That fall/winter a nationally distributed gay magazine had an article about the first softball Gay World Series between San Francisco and New York and I just knew it was something I wanted to be involved in. During the winter of 1977 I talked it up with anyone who would listen to me about organizing a league in Boston. I felt at the time that bars catering to the Gay Community were making a lot of money and that they should support a softball league as a way of re-investing in the community. I was delighted when Joe Leo started the Esplanade Softball League in 1978
Although I was/am passionate about baseball/softball, I had not had much success as a Little Leaguer, being afraid of the ball at the time, so I became a student of the game. I attended Major League Baseball games, read books, and even watched a children's show, Johnny Bench's Baseball Bunch to glean as much insight to the intricacies of the game as I could. (The Baseball Bunch show featured a different major league star on each Saturday morning who would explain to the kids different parts of the game - i.e. how to run the bases, how to throw to the infielders, cut-offs, run downs, sliding, catching, throwing from the outfield etc.with emphasis on the fundamentals.) Much of my early success in softball came from studying the game.
After I returned from my first tournament, the 1979 Canada's Cup, the elation I felt from meeting players from other cities who, again, shared my passion for the game and also the idea that the interactions between the gay communities in other cities would make us stronger as a minority group led me to get involved in organizing what would become the Beantown Softball League. I can honestly say that the 15 years I spent in the ESL/BSL were some of the best years of my life. I am extremely proud of the fact that I was one of the pioneers in Gay amateur sports.