Inductees
2000 Era
1990 Era
1980 Era
1970 Era
Listed by:
Season joined, or the part of a season joined.
Alphabetical by last name.
RIP is deceased, Rest in Peace.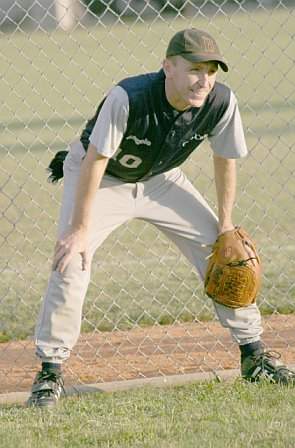 Inductee: Sandro Frattura
Member Since: 1996
Inducted: 2005
His knowledge of strategy and dedication to the discipline of the game highlight Sandro's success as a player and valued member of the BSL. His intensity is quite evident on every pitch of every game. His high energy carries over to his off the field contributions as well. His tireless leadership in fundraising events have brought much money and fun to a grateful BSL and its members!
Player, BSL Treasurer (3 yrs), Team Co-sponsor (Dedo, 1 yr), Executive Committee Member (Team Rep., many yrs)
Teams: 5 Star Generals (1st Team, 3 yrs), Jackhammers (3 yrs), Club Café Crew (6 yrs)
Awards: MVP (Div. I) '00, Best Offense (Div. I) 1 time, Best Defense (Div. I) 3 times, Team MVP (many)
BSL Fundraising: Coordinated many fundraising events, including golf tournaments and Casino nights, raising about $30,000 for BSL
Best League Finishes:
1st place (5 times): 5 Star (3 times '96, '97, '98), Jackhammers (twice '99, '00),
2nd place (7 times): Jackhammers ('98, '01), Club Café Crew ('02, '03, '04, '05, '06), Smith Field/Media League Club Café Crew (3 yrs)
Best finish: Champions '06
12 World Series appearances:
Best finishes:
1st place: '00 Jackhammers (in Toronto)
2nd place: '98 Fritz (pick-up player for Atlanta)
Tournament Appearances (30 at least):
Best Finishes:
1st place: Chicago '97, Dallas '97 (Div. C), Ft. Lauderdale '03, Dallas '01 as pick-up player for Club Café Angels (Div. B), Montreal '02, Ft. Lauderdale '98 as pick-up player for Jox (Div. A),
2nd place: Chicago '99, Phoenix '00 (Div. B), Phoenix '98 as pick-up player for Silver Lake (Div. C)
3rd place: Ft. Lauderdale '99
My first experience with the league was watching the Fenway Falcons, coached by my special friend Steve Shatkin. At the time, I still lived in Albany NY, and would drive out to Boston each weekend. Boston was where I felt comfortable 'coming out' and where I made my first gay friends. I had never played softball, and my last experience was little league baseball at 15 years old. I wanted to play but the Falcons had enough players. Steve directed me to the 5 Star Generals. Even though their team already had 17 or 18 players, 5 Star's Jim Torres and Jon Swalboski knew that they were my last hope. They did a very '5-Star Generals' thing, which was to welcome me to the BSL with open arms, and tell me that they would get me in whenever possible and try to make sure I had fun. At the end of that first season (I played barely one month), the South Enders asked me to join them in Minneapolis for the World Series. That was my first W.S., and I haven't missed one since.
After winning the league with the Generals in '96, '97, '98 and doing well in tournaments, I decided it was time for me to move up a division. The Generals were a GREAT group of guys that I hated to leave, but my sense of fairness told me I couldn't play in that division anymore. Jack Campbell and I met and discussed forming a B team. Later, the Jackhammers were formed for the '99 season. Our greatest moment came when we won the World Series in Toronto in 2000. We never could have dreamed that we could win, but somehow with our AMAZING defense and singles hitting, we beat the big sluggers from LA and Fort Lauderdale and elsewhere! It was the most wonderful sporting experience in my life, and I'll never forget it!
I'd like to think I got the ball rolling on the BSL "Clinic Day" which Mark Haas and John Porcaro succeeded in making happen in 2002. As BSL treasurer, I fielded many emails from new people looking to play, but there was no room for them. It was clear the BSL had to expand by forming brand new teams and finding sponsors for them. I proposed this in 2001, but it was voted down. Later, my partner Jim & I financially sponsored, coached and managed the new "DEDO" team which formed from the first 'Clinic Day'. I wanted to make sure that I backed up my words with actions, and that's why I volunteered so much time to run practices, teach skills, make lineups, keep the books etc. Many (most) of those players are still playing in the league today.
Lastly, while I know I have my occasional temper tantrums and am sometimes seen as a hothead, I have made a concerted effort each year to become a better sportsman. Being in the BSL has taught me a lot about friendship, sportsmanship and camaraderie. While I still have a long way to go before I get to the level of great sportsmen like Mark McGrath, Paul Gedman, Dave Motta, Chris Burke, Rick Twomey and others whom I so admire, I can honestly say that I do try every year to be a better sportsman.