Inductees
2000 Era
1990 Era
1980 Era
1970 Era
Listed by:
Season joined, or the part of a season joined.
Alphabetical by last name.
RIP is deceased, Rest in Peace.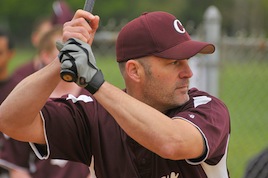 Inductee: Russell Friedman
Member: 1993
Inducted: 2011
Russell uniquely embodies many qualities that are valued in a Hall of Fame member. He exemplifies sportsmanship, hustle, achievement, and is an amazing teammate, volunteer, and generous donator to his league and teams. From his strong and accurate arm in the outfield, to his sure handed - heads up play in the infield, to his line drive hits from line to line, Russell's teams have always relied upon "Mr. Versatility" to excel wherever he is assigned.
Player, Coach (5 yrs), Umpire (4 years), Executive Committee (9 years), Skills Clinic Volunteer (2 yrs), Assistant Coach, Clinic Day Teams (2 yrs), Fundraising Volunteer (Various years: Casino Nights, Hold 'Em Tournaments & Golf Tournaments)
Teams: Club Café Angels (1st team, 4 years), Silver Lake (3 years), Fritz (1 year), Jackhammers/Club Café Crew (10 yrs).
Awards & Recognition: Best Defense Player '93; Hustle Award '10.
Team MVP Awards: Silver Lake '98; Club Café Crew '09.
Team Best League Finishes: Division 1 Champs: 6 times – Club Café Crew/Jackhammers; Division 1 2nd place: 4 times – Club Café Crew/Jackhammers; Division 2 2nd Place: 2 times with Angels, 2 times with Silver Lake
14 World Series appearances:
All with Jackhammers/Crew unless otherwise noted
'93 (Club Café Angels), '95 (Club Café Angels), '97 (Silver Lake), '99 (Silver Lake), '00 (Fritz), '01, '03, '04, '05, '07 (Alley Gators), '08**, '09 (A Div. Crew/Fritz), '10**, '11
Best World Series Finishes:
Champion: Seattle, '08, Div B, as 3rd baseman with Club Café Crew; 5th Place: Columbus, '11, Div B, as IF/OF with Club Café Crew
Gay Games: '06 (Chicago) – Club Café Crew, 4th place
Tournament appearances: Russ has been to dozens of tournaments in his career. In addition to being a key player, he has been a team tournament organizer quite often. He has had many top 3 finishes, and a few championships along the way.
BSL Team Participation Beyond the BSL:
Boston Media League: 4 years with Club Café Crew, Champion '06/'08, 2nd place '05/'07
His teams have relied on him to be "Mr. Versatility", asking him to play pretty much every position, and play them well. As an outfielder, Russell's accurate and powerful arm is quite a weapon. As an infielder, Russell has good hands and always makes the play to the proper base (very heads up player). Opposing pitchers wince at facing Russell as he always makes line drive contact hitting from "line to line," hitting for power on occasion as well, and having a keen eye for taking unselfish walks. Since his teams never kept statistics, it can't be said with certainty, but Russell's offensive statistics are quite impressive and he is a consistent run producer. With the game on the line, Russell is one of a few that his team would want at the plate.
More importantly, Russell is an ideal Ambassador for our league. He exemplifies sportsmanship, hustle and achievement. As an executive with Marriott, he has donated hotel and room discounts, offered sponsorships and personally donated and contributed his time, money, and various items. These donations were not just to his own team, but to many others in order to help with their fundraising efforts.
"Mr. Bubblegum" (as he is known for always bringing a bucket of bubble gum for his team) has always expressed himself with an upbeat positive attitude regardless of how negative or frustrating a situation may be. No one can ever claim to have seen Russell negative or mad at anything or anybody.
Russell is an amazing teammate, the quintessential sportsman and a fantastic volunteer and ambassador for the league.