Inductees
2000 Era
1990 Era
1980 Era
1970 Era
Listed by:
Season joined, or the part of a season joined.
Alphabetical by last name.
RIP is deceased, Rest in Peace.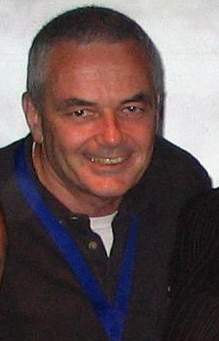 Inductee: Mike McCabe
Member: 1986-2001
Inducted: 2006
As a well respected and knowledgeable coach who founded and led the Fritz Southenders to great success during the 90s, Mike is warmly thought of as a great friend of his team. His efforts helped build a winning tradition that also made the rest of the BSL more competitive. If asked what his greatest success was, he would undoubtedly answer that it was the fun he had with his team doing it.
Manager/Coach (12 yrs), Player (1 yr), Executive Committee Member (Team Rep., 12 yrs), Minuteman Classic Committee Member (1 yr), Non-playing Member (2 yrs)
Teams: Fritz Southenders (12 yrs), Ramrod Blue Roses (1st team as player member, 2 yrs), Ramrod (1st Team as non-playing member, 2 yrs)
Awards:
"Coach of the Year" - '98 Fritz Southenders
Team MVP - '01 Fritz Southenders
Best League Finishes: 1st Place and/or 2nd Place: 6 times (at least) during the '90s, Fritz Southenders (Div. II)
4 World Series Appearances: '91 Boston (as pick-up coach for Tatoo); '96 Minneapolis, Fritz Southenders (Div. C)
Best Finishes: 1st Place: '98 Atlanta, Fritz Southenders (Div. C), 5th Place: '00 Toronto, Fritz Southenders (Div. C)
Tournament Appearances (many): Including Washington D.C. (3 times), Atlanta, Chicago (5 times), San Francisco, Minneapolis, Phoenix, San Diego, Toronto, Philadelphia (several), Minuteman Classic Boston (many)
Best finishes: 2nd place: Minuteman Classic Boston, Fritz Southenders; 3rd place: '97 Chicago, Fritz Southenders
Before joining the BSL, Mike was a dedicated fan who enjoyed watching the Ramrod team play their games at Clemente Field in the Fenway. Eventually he became a non-playing member of the BSL and in 1988 became a player on the Ramrod Blue Roses which was coached by Chuckie Dutcher. The Blue Roses were the recreational team of the Ramrod softball organization and in 1989, Mike became their coach. The following season, the Blue Roses found their roster and sponsorship seriously affected when the Ramrod competitive team decided to leave and combine with Fritz to form a strong "A" team. Mike, therefore, decided to combine his team with the 1270 Buccaneers and seek new sponsorship with Fritz. This created the founding of the Fritz Southenders in 1990. Mike jokes about the fact that even though the team was made up of the two 'worst' teams in the BSL, they volunteered to play in the competitive division that year anyway.
During the 1990s, Mike led the Southenders to many tournaments around the country. They were among the first to travel extensively as a team at their level, as opposed to being an 'All Star' team made up of BSL players from other teams. Eventually, the Southenders always seemed to be out of town playing at tournaments because they were having such a great time in every city they visited! It certainly helped them improve their play as well because over the next dozen years, the team finished in either first or second place for more than eight BSL seasons.
Mike led the Southenders to the World Series in the "C" Division three times. In 1996, the team finished 12th and in their next appearance, in Atlanta in 1998, they won the Championship! This is the only time a Boston team has finished 1st at the World Series in the C Division. In Mike's last World Series appearance, the Southenders finished 5th in Toronto in 2000. Although Mike had announced his intention to retire at the end of 2000, his team convinced him to stay on for one more season.